Banking On Customer Experience: A Proven Organizational Transformation
Customer experience is growing in popularity, although processes still can move slowly in the organizations. Sabrina Sidmalm has worked successfully with CX for nine years and at three companies - she knows how to get the whole organization on board.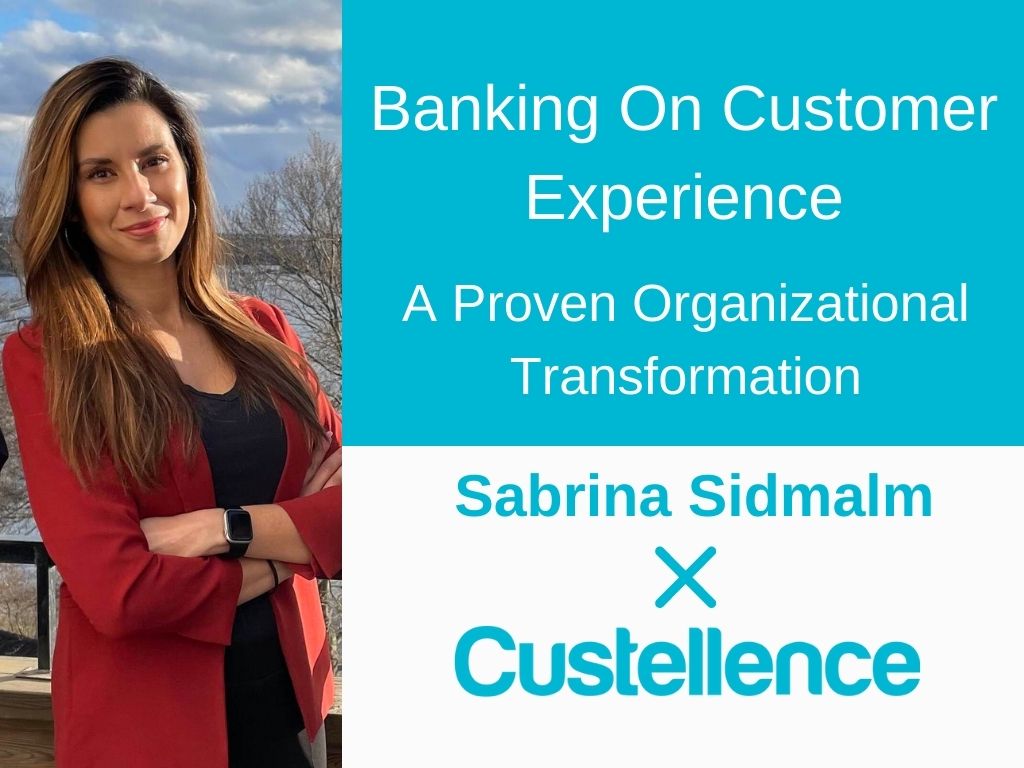 Sabrina Sidmalm has always been interested in experiences and how to make the best of them. She first felt the spark of interest when she fell into customer experience by chance. It began when she was a part of a six-month project with a previous employer working with a company specializing in CX.
When I started with CX, it had nearly an exclusive focus on surveys. Now, companies understand that it's a framework and one of the tools to carry profitability. It's all about creating experiences that make people feel good around your brand or product so that they want to keep engaging with the company.
Change Keeps Gaining Interest Internally and Externally
Over the last four years, Sabrina has worked as Customer Experience Manager at ICA Banken, the first to take on that role. When she started, ICA Banken hadn't come as far in their customer experience methodology as it has now. She knows all about the ups and downs of transforming an entire organization's CX processes and the time and dedication it takes.
A CX transformation journey can take roughly 8-10 years, and we're only a few years in now. We've met our fair share of resistance within the organization, after all, it is a bank, and talking about feelings and emotions isn't the usual. But we've worked hard advocating in the organization for what CX is, why it is indispensable, and how the CX process is attainable. Also, how important every individual is in this journey and that they play a crucial role in the long-term success of the customer experience. But most of all, how CX correlates to revenue in the long run, and now we're starting to see results, which is very rewarding.
At ICA Banken, we strive for our customer journeys to be easy, personal, digital, and great value for your money. With that foundation, we start building relationships with customers over time. Still, CX isn't just good from an external perspective but from an internal perspective as well.
How is that?
Well, it's super valuable for an organization to gather a team of people with different skills around a process or product. When starting a CX journey, every team member probably has their ideas about it. The customer journey is often thought of from an inside-out perspective when it should be the opposite. Seeing it this way when gathering knowledge within the organization helps you to dive deeper into the customer's needs at every touchpoint. Map the journey as-is from the customer's perspective, looking at their needs to identify what works well today and what aspects can be improved.
And that is doable in different ways, but it's critical to analyze and use data you collect from various sources. In this case, by working with client panels and doing mystery shopping. Then once you finish the mapping, it's time to design the journey how you want it to be, aligning it with your brand and vision. After which, you will probably have a list brimming with activities you need to start prioritizing. Basing it on the amount of effort it takes to implement and how much impact it has on satisfaction and experience.
Advice To Cash In On
For Sabrina, a big emphasis on working with customer experience is that it is a journey, both for the customer and the organization. The key is to be patient and humble during the process, as it takes time to create these transformations. At ICA Banken, it's clear now that it's not just a project but also a working method.
For those who haven't yet started with customer journeys, my best advice would be to start small and simple. Use helpful tools, such as Custellence, that are custom-made for every step of the process, no matter the knowledge level.
And, of course, talk to other people in the business! The CX world is relatively small, although it is starting to grow, so invite someone out for a coffee and ask for some tips and tricks. We need to help one another and not see each other as competitors; everyone will benefit from better client experiences in society.
TIP! If you're looking to start a customer journey map but aren't sure how to, check this useful Professional Map Template guide for valuable insights. This template will help you navigate the steps of creating a journey map with helpful tips and answers to the most common journey mapping questions.
---
By Benny Farnworth - June 22, 2022