What's the difference between Customer Journey Maps, Experience Maps, Service Blueprints etc… and when to use what?
Can you tell the difference between a Customer Journey Map and a Service Blueprint? Or between an Employee Map and a User map? Here is a list of the most common customer journey-based maps, how they differ from another, and when to use what.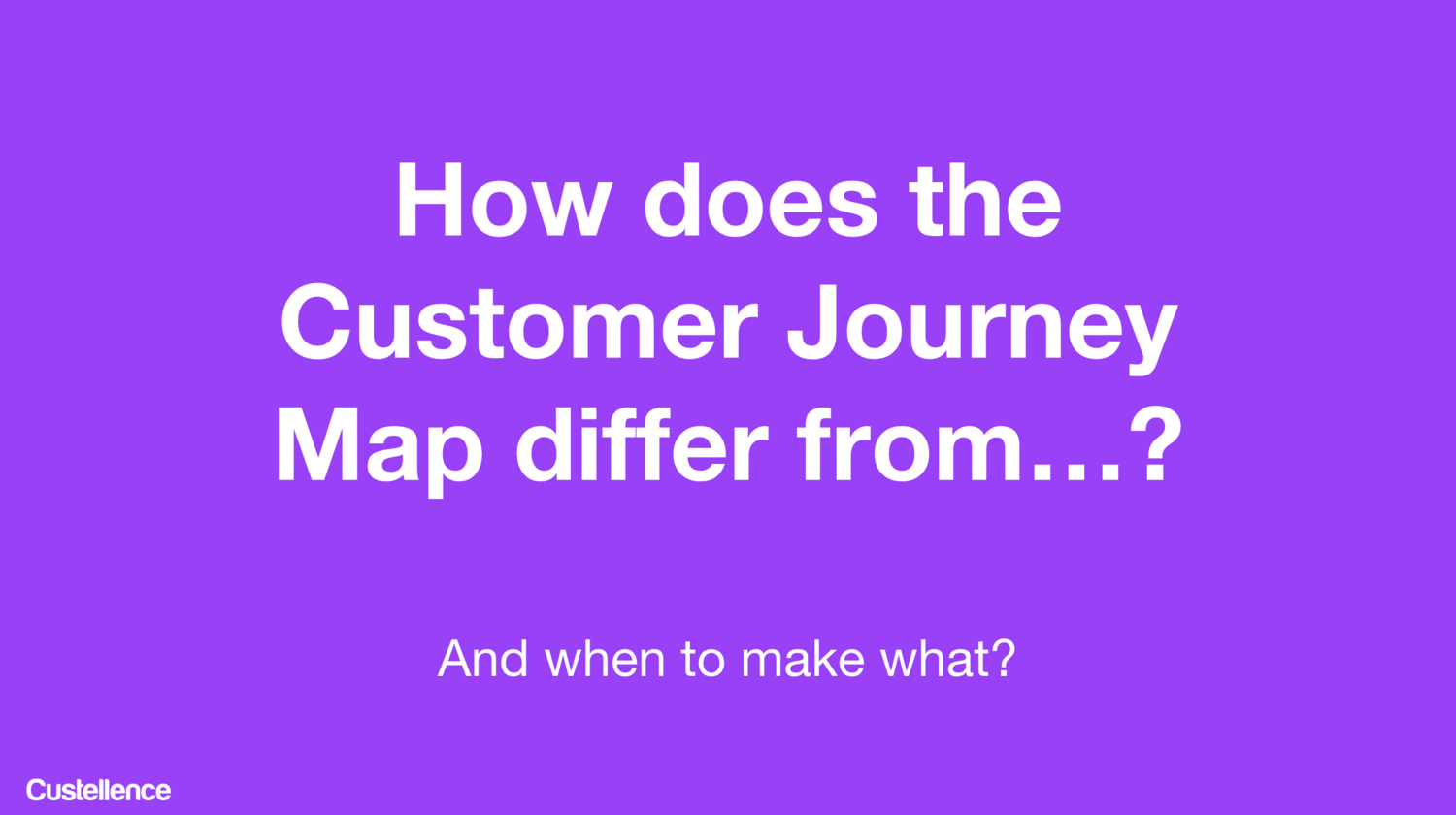 Customer journey map vs User Map
Basically, a User Map is the same as a Customer Journey Map. But Customer Journey Maps are often called User Journey Maps when they refer to groups and individuals that are not customers, or where there are no economical transactions. For instance in the public sector, (where you might call the customer citizen, patient or user) or when mapping childrens user journeys. Also during development, it is more common to use the term user instead of customer.
Make a User Map… When you don't have a transaction or interact with a buyer per se.
Customer Journey Map vs Employee Journey Map
Customer Journey Maps and Employee Journey Maps are basically the same, apart from an important difference: the Employee Journey Map contains the employees steps and activities (and the additional insights) as if the employee was a customer in an internal system.
Make an Employee Journey Map… When you want to create an employee experience in order to boost engagement, job satisfaction, employee brand and productivity for instance. Or to find areas where the employee experience affects the customer experience to understand gaps and identify improvements. It is very powerful to map the employee journey below the customer journey!
Customer Journey Map vs Experience Map
A customer journey and an experience map is basically the same, except that the experience map focus on the customers experience and emotions.The purpose is usually to build empathy internally and to help the organization to see the bigger picture from the customer's' point of view.
Make an experience map… When you mainly need to focus on the bad experiences and identifying areas for improvements.
Customer Journey Map vs Service Blueprint
The Service Blueprint is made up by the Customer Journey Map in the upper part, and below are the lanes that visualize the internal steps and processes that need to be in place to deliver the service in each of the touchpoints where the customer meets the organization.
Make a Service Blueprint…When you are working on the delivery of a better customer journey and to provide a cohesive customer experience . And when you want to motivate people in different parts of your organization so that you can work together to improve your customer experience from all touchpoints.
Tip! If you don't want to start from scratch, have a look at our free templates You'll find templates like Customer Journey Maps, Service Blueprints, and others. All of our templates are versatile and can be used in a more than one industry. They are also easy to adjust according to your specific business and customer needs.
Are you curious on how to create journey maps, service blueprints or user maps like a professional? Check out our Step-by-step guide.
To dig deeper into the difference between a journey map and a service blueprint, we recommend the excellent article The difference between a journey map and a service blueprint by Practical service design.
---
By Daniel Ewerman - September 12, 2018