Why Choose Custellence over UXPressia
Are you choosing between Custellence and Uxpressia? Here is guide that will help you decide on what's best for you.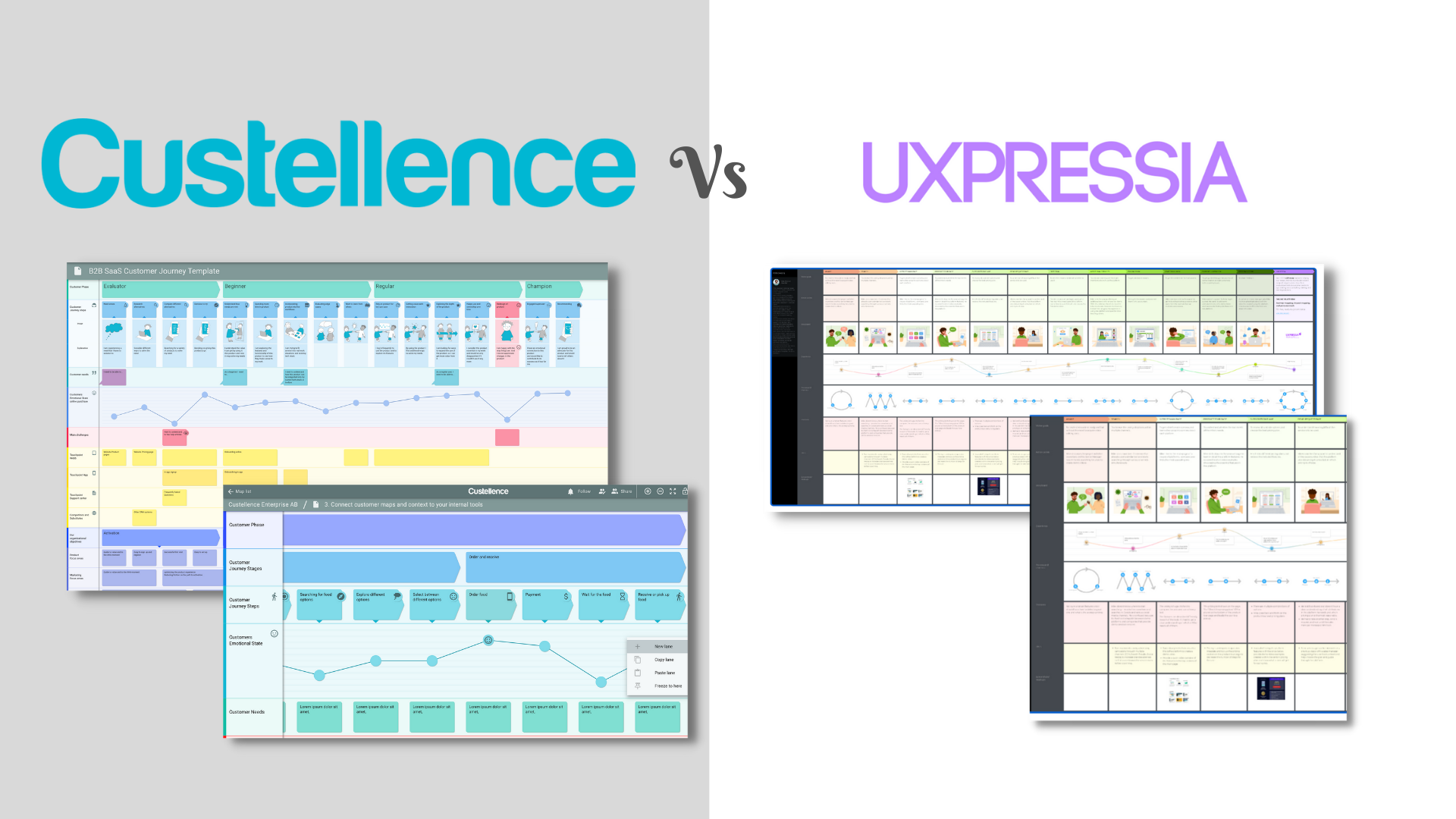 First and foremost, we want to acknowledge the team at UXPressia because they have built a great product to create customer journey maps. But if you're looking for an alternative, then here is where you'll learn to understand the difference between UXPressia and Custellence.
What's the Difference Between Custellence and UXPressia?
The product and feature differences between the companies are only half of the difference (which we highlight further down the page). But at its heart, Custellence was built exclusively for Customer Experience professionals. This accomplishment came from our founder, the pioneering service design mind of Daniel Ewerman, who started one of the first service design agencies in the world. Custellence is the cumulative product of years of experience, knowledge, and expertise.
So if you are a Head of Customer Experience, Customer Experience Specialist, or Customer Experience Manager, you probably face some common problems. How tough working customer-centric and using the customer journey to get buy-in and evolve customer experience over time is. That's why Custellence has focused on making the perfect balance between ease of use, flexibility, and management tools for large and continuously evolving journey maps.
Top 4 reasons Customer Experience professionals choose Custellence over UXPressia
1. Quick to start and easy to use
Every time you start a new customer journey map, it should be quick and easy, so you can focus on getting on with the job. 
In Custellence, you can add cards with one simple click and move them around with drag and drop. Automatic adjustments save time when adding lanes, columns, and additional cards anywhere on the map. The journey map dynamically updates after changes, making editing and rearranging faster and easier, allowing you to put your focus on your customer's journey.
2. Non-grid base structure gives total freedom and flexibility
UXPressia and several other Customer Journey Mapping tools use grid-based structures that put every detail of your map to fit into these neat little boxes. But Customer Journey Mapping is not always as structured and linear because the journeys your mapping rarely are.  One of the features that make Custellence so unique is how you are not limited to a set grid to work with your journey map. Instead, you have total freedom to customize different card sizes, lengths, overlapping phases, and much more, adjusting them to fit your map's needs.
3. Handle complex maps without the mess and difficulty
As your customer experience changes and evolves, the same goes for the journey map. Over time the map increases in size, information, and sometimes complexity. Supportive features such as fast zoom-in and out and functionality like pinning lanes onto the map help you navigate these large and growing maps. Helping you remember where you were on the map and how the details you are working on now fit into the larger picture.
4. Presentation
When leading a customer experience initiative, part of your job is putting the customer journey on management's agenda. UXPressia has a built-in PowerPoint-esque style presentation mode to showcase maps and personas to clients or stakeholders. It also uses a built-in safety feature that makes presentation mode view-only to prevent accidental changes. While this can be a handy and safe option, journeys change with new information. This requires you to have the same map open twice to make changes during meetings.
Custellence is optimized to be presentation-ready from the moment you begin mapping to the end of the customer's journey. This allows you to go right from journey mapping to meetings and make changes and update your map the moment new information becomes available. The whole point of Custellence's design is to help present the customer journey professionally and persuasively when bringing a convincing customer case to stakeholders and colleagues. With Custellence, you have lots of options and freedom to make a compelling visual presentation with customizable card sizes, colors, icons, images, and text formatting. 
Using the option of sub-lanes, you can add all of your data and text along with images to the map. This gives you the ability to adapt the map to your different stakeholders. With sub-lanes, you choose the amount of information you want to share in a journey map by being able to hide and show layers of information.
How Custellence Compares to Other Customer Journey Mapping Tools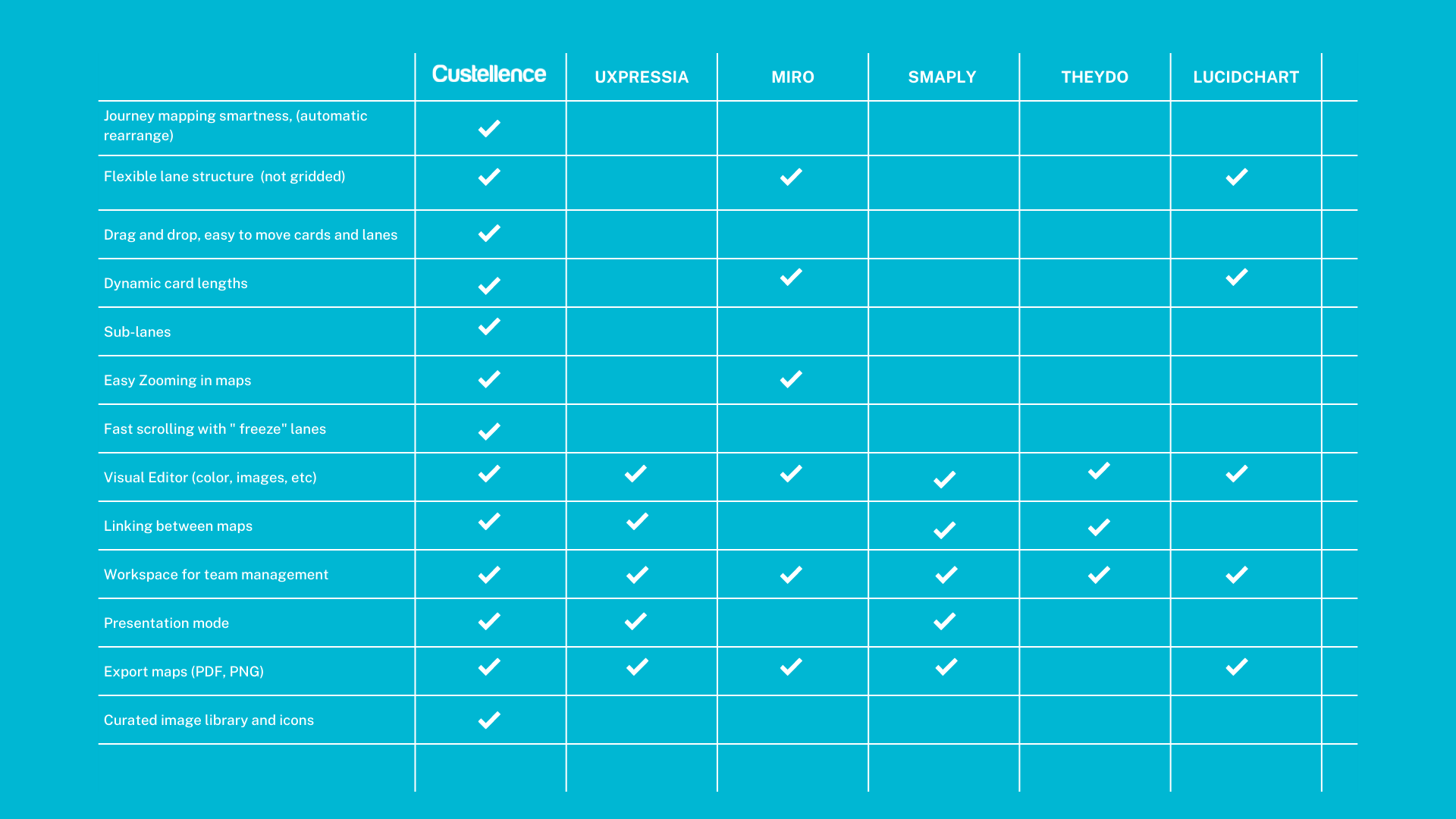 click to open in a new tab
If you still need help figuring out what tool could work best for you, check out this practical guide to evaluating customer journey mapping tools.
---
Last updated: May 31, 2022